Hi! Thanks for coming by to check out what I've been up to!
Today's remake started with a skirt I loved that was thrifted years ago. I loved the fabric, and I wore it several times, but the length was definitely dated, and the skirt was…well, let's just say it must have shrunk in the wash. A lot.
Here is the skirt before I started cutting…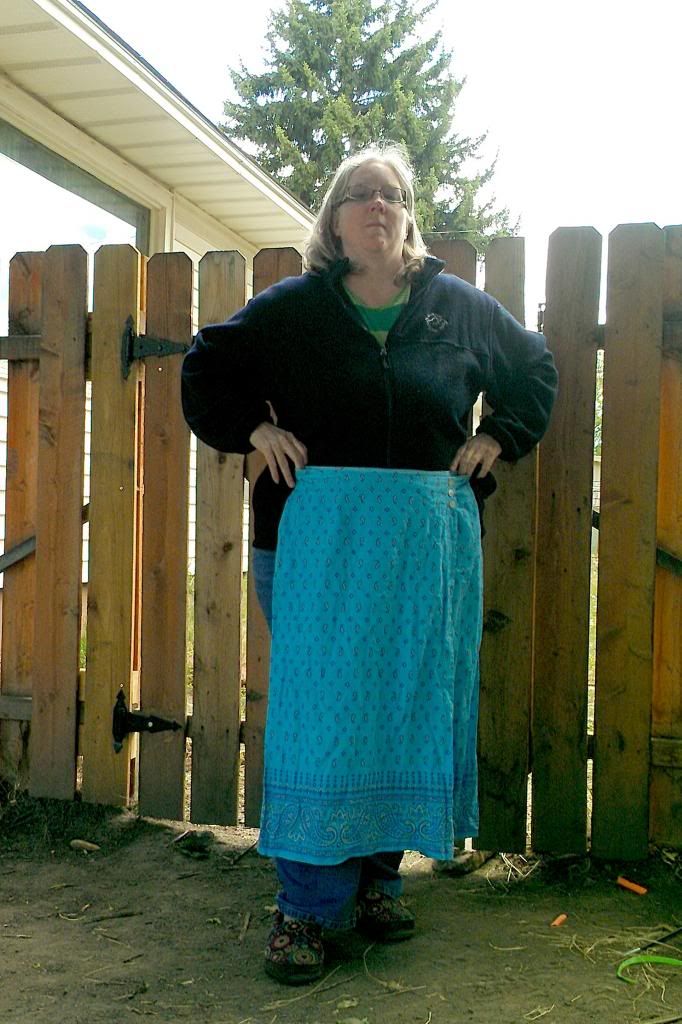 (What's the deal with the stuck-up chin? Weird.)
I love the paisley print, and the pattern band at the bottom of this skirt so I decided to lop the top off this thing. I wanted my finished skirt to be about knee length, and my rough measurements told me that if I cut the top section off just below the zipper it should be perfect. That would also mean I didn't have to mess with parts of a zipper. Whew.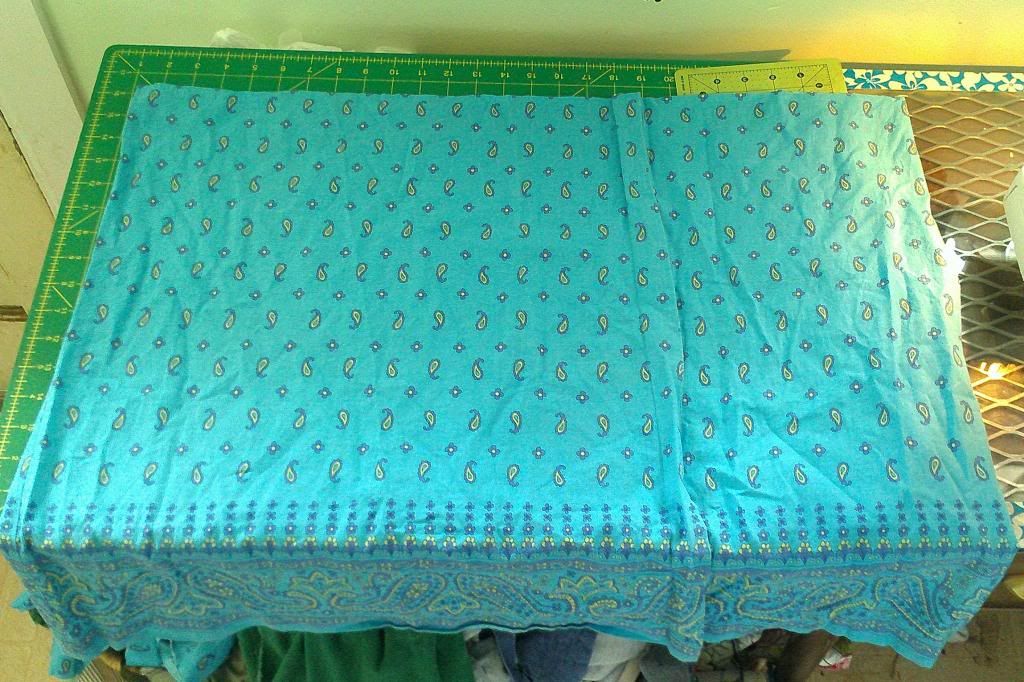 This had a sort of wrap skirt look to it with a pleat and buttons on the side – it was a fun detail, but in order to make a skirt I could wear, the pleat had to go.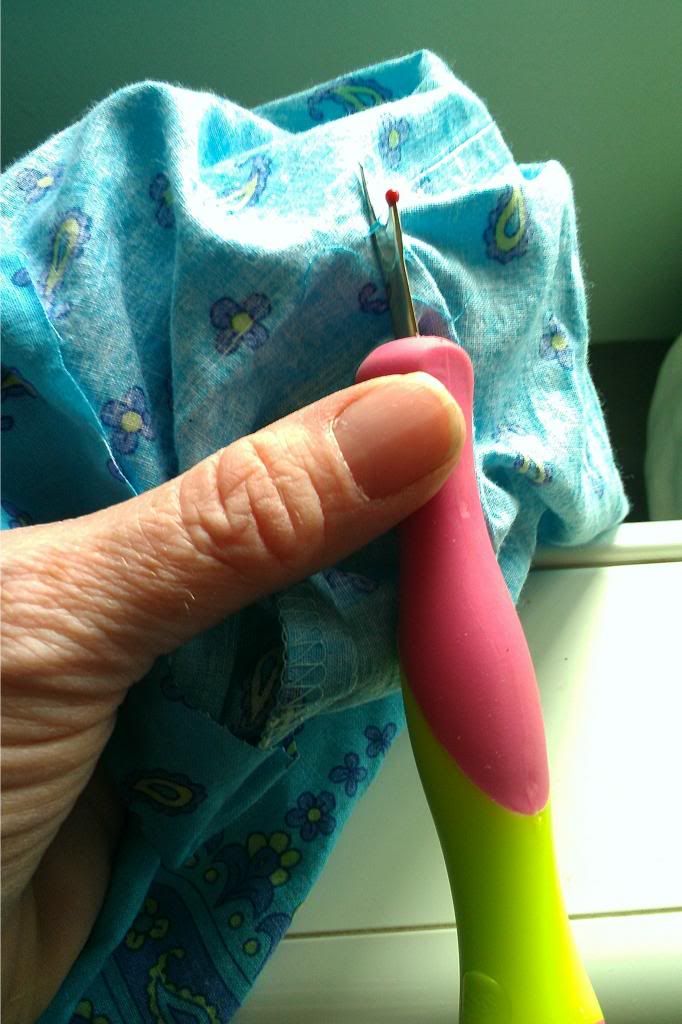 Fortunately, it was just a pleat, and all that fabric was there for me to use.
It just took some seam ripping and a bit of ironing…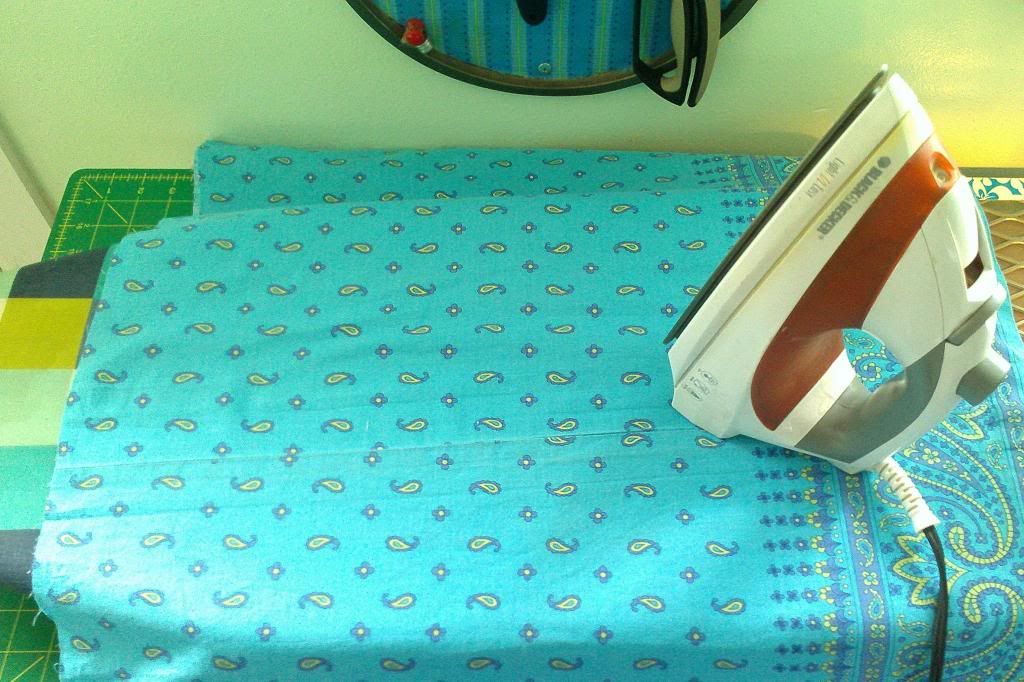 At this point I discovered that my skirt was going to be shorter than I wanted if I just turned a waistband under and put elastic in it, so I decided to make a yoga band instead. Since I had just done one for another skirt, I knew that if I wanted about 4 inches of waistband (to give me some folding options), I needed a piece of jersey that was 16 inches long (about 4 times my finished length), and 41 inches wide (my waist minus 4 inches). The only color I had in that width was pink, so pink it is.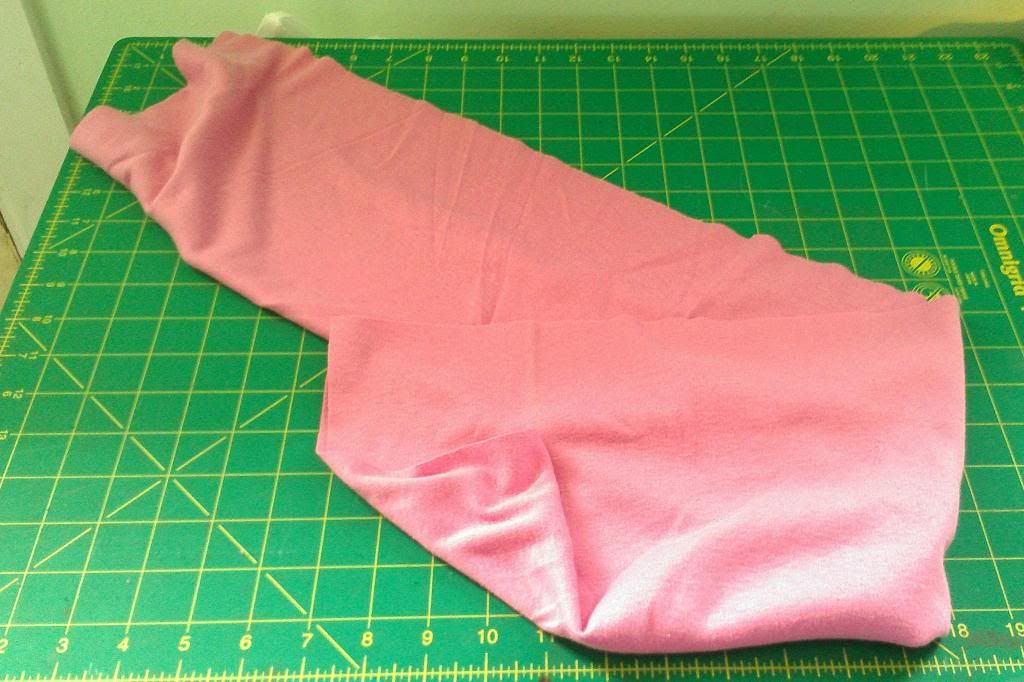 I folded that in half and stitched the two ends together to make it a circle, then put that over my skirt (skirt was right side out) with the raw edges together. And I pinned the heck out of it because the skirt was much more full than the waistband. I wanted to make sure I caught all the bits I needed to sew.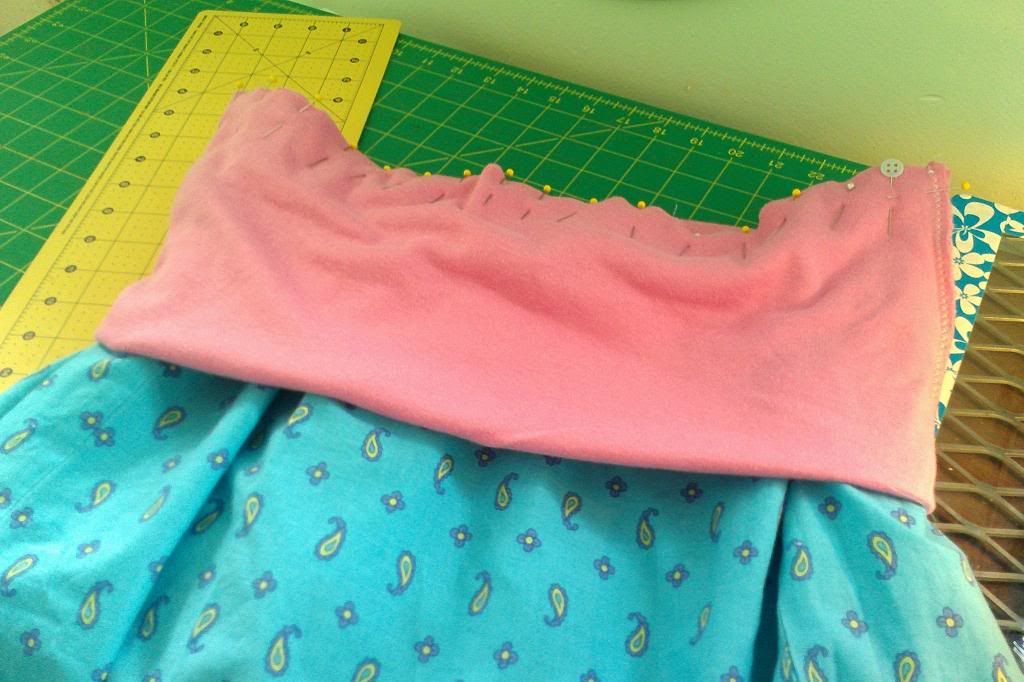 I used a zigzag stitch to make sure it would stretch, and stitched that raw edge all the way around.
Here is it with the band sewn on and folded down. I was kinda flying by the seat of my skirt, but this project actually came out better than I had imagined it.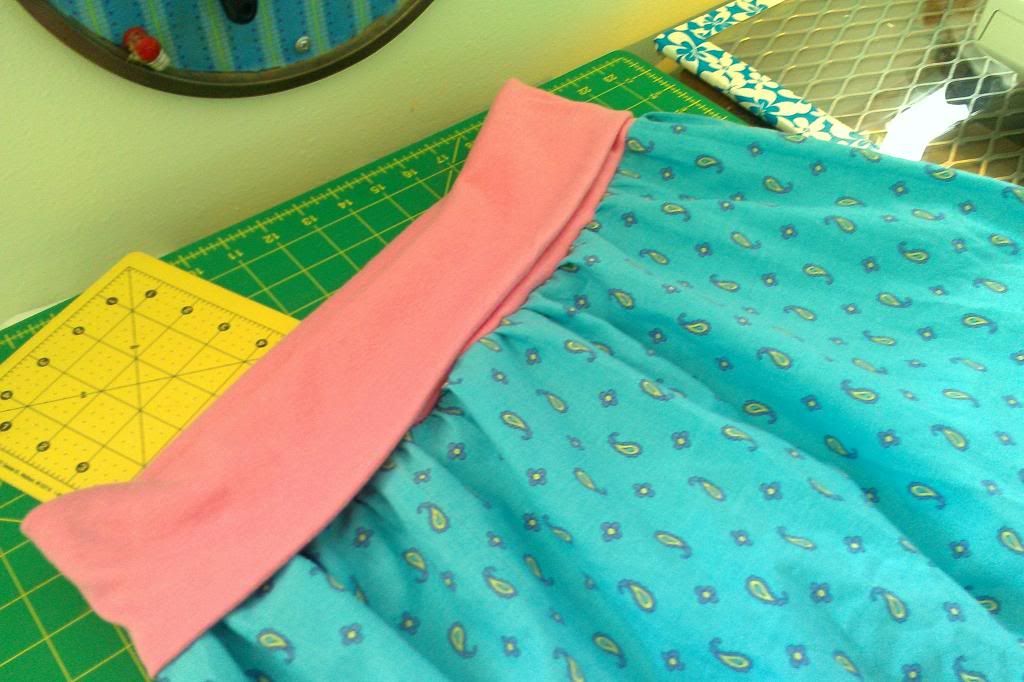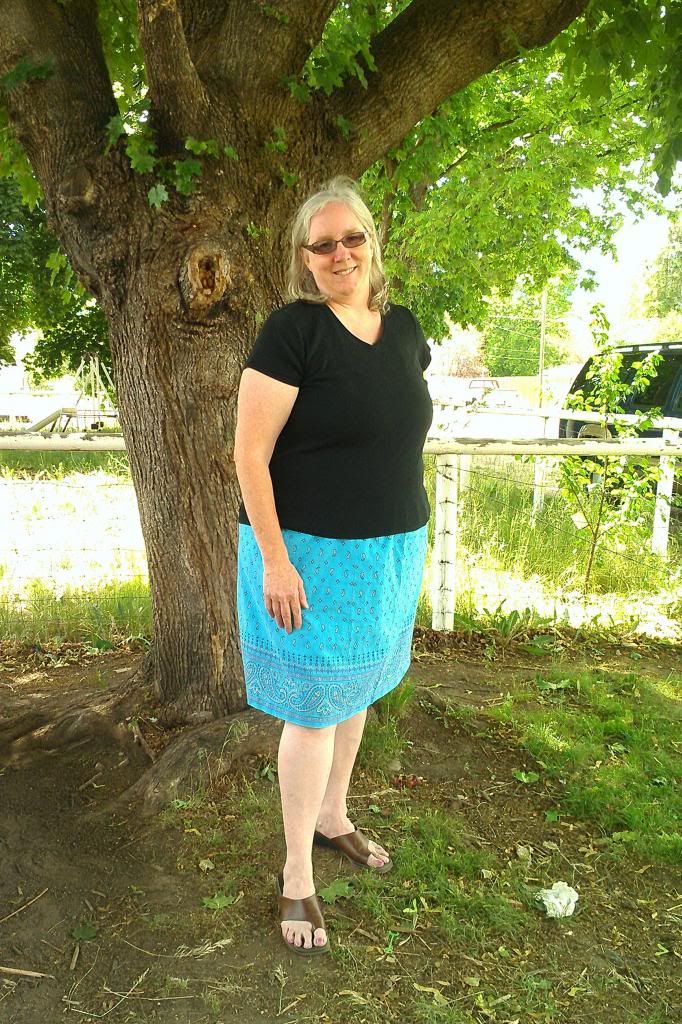 I was thrilled with the results! So much so, that I wore it for my evening out with my sweetie and the "kids" (our adult daughter and her husband). I should also mention, as it seems like the thing to do, that the Verona t-shirt is also a thrifted treasure, as are my fabulous Fashion Bug sandals.
And if you've read this far, you deserve a bonus. How 'bout a little Hokey Pokey?

One last little note - I have a few refashioned items posted over on my family blog, but there aren't any instructions, so we'll just call those "inspiration," okay? For now, I'll post my refashions and how I did them on this blog.
Thanks again for stopping – I'd love to hear your thoughts!
Oh, and I linked up here - http://www.flamingotoes.com/2013/06/think-pink-sunday-no-118/. Lots of fun projects to peek at on this page!