I wasn't planning on a summer skirt series, but my first two refashions after starting this blog just happened to be skirts. I have discovered that I like knee-length-or-just-below skirts, and they're so comfortable in hot temperatures! (Well, they would be if we would just have some hot temperatures.)
A couple weeks ago I found the skirt in this photo at a thrift store, and I liked the idea of taking the bottom part of the skirt and adding it to something else to make a new garment.
The top part was too slim for my generous hips, but there's some good elastic in the waistband, so that's a bonus. I looked around the store a bit to find something that would work with the white-and-floral knit and found the navy striped shirt. It's a nice, soft knit with good stretch, and the navy works fine with the white/navy print. I decided I would use the body of the shirt to make a yoga band and use the floral skirt bottom for my garment.
To start off, I used my scientific method to see how much of the skirt top I needed to cut off – I found the bottoms of the pockets, folded the skirt over at that point, and held it up to my body to see where the hem would come if that was where my skirt started. It was perfect. Then I measured how far that was down the sides. It turned out to be 11 inches, so I made marks 11 inches down from the top in 6 or 8 places across the front – I wanted to make sure I got the right curve in the skirt, so I didn't want to cut straight across.
When I connected all those marks and cut it along my curved line I had the swirly, swooshie part of the skirt.
Next, I laid the shirt out and measured from the sleeve/side seam down to the bottom of the seam. The length was 15 inches – just one inch short of what I used previously for my yoga band, so I decided that was close enough. All I had to do was cut across from underarm to underarm (I was even able to follow the white stripe), and then across from where the side seam split on the left to the matching spot on the right side. Voila! I had a yoga band! Normally, I make them about 42" around, but this was 52", so I laid it out flat (now it was 26" because it's already a circle) and cut off 5 inches. That took a total of 10" off the band. I stitched up the seam to make it a circle again.
Now it was time to put the two together. I folded this circle in half to make my yoga band – it's 7.5" now – and started pinning it to the right side of the skirt with raw edges together.
Once the pinning was done, it was sewing time. Sorry – you don't get a sewing picture, but I thought it was probably better not to try to manage sewing
and
a camera. I used a zigzag stitch because I wanted to make sure it had stretch.
So it was all finished up, but the striped knit was much more stretchy than I expected, and the waistband was now too big. When I tried it on, I decided I could take off 2 inches, and ran a quick seam straight down along one side, 1" in from the existing seam. Yay! Fixed!
(It's folded here – I didn't take it in
that
much.)
So now I have another knee-length summer skirt. Here's a shot of it in use along with thrifted tank that I recently found with the tags still on.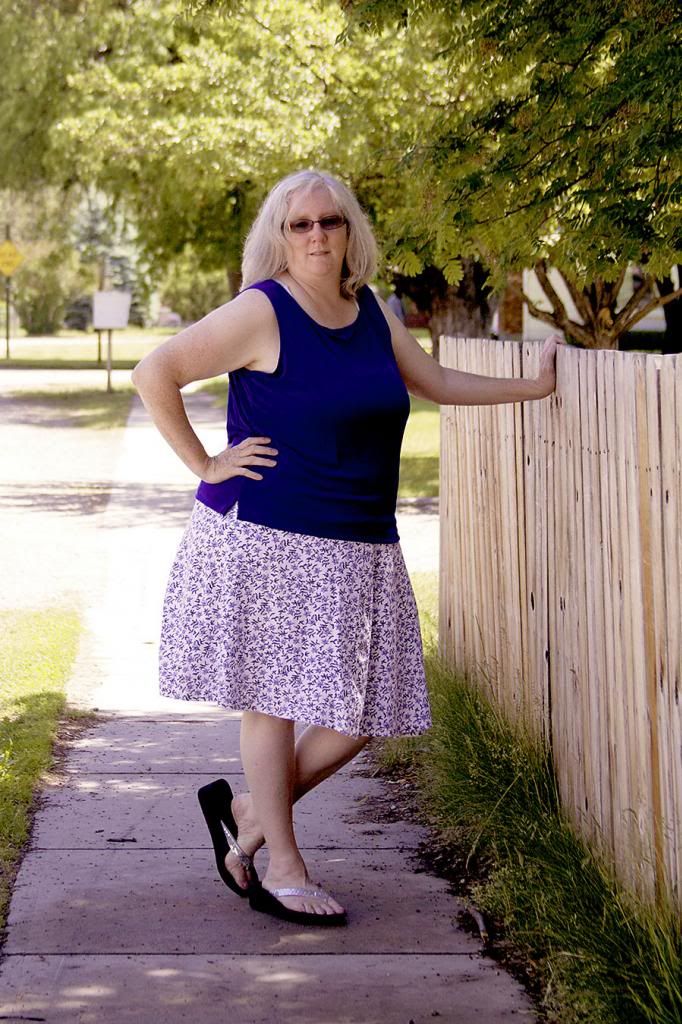 Here is another option – I have the tank tucked in and the yoga band unfolded.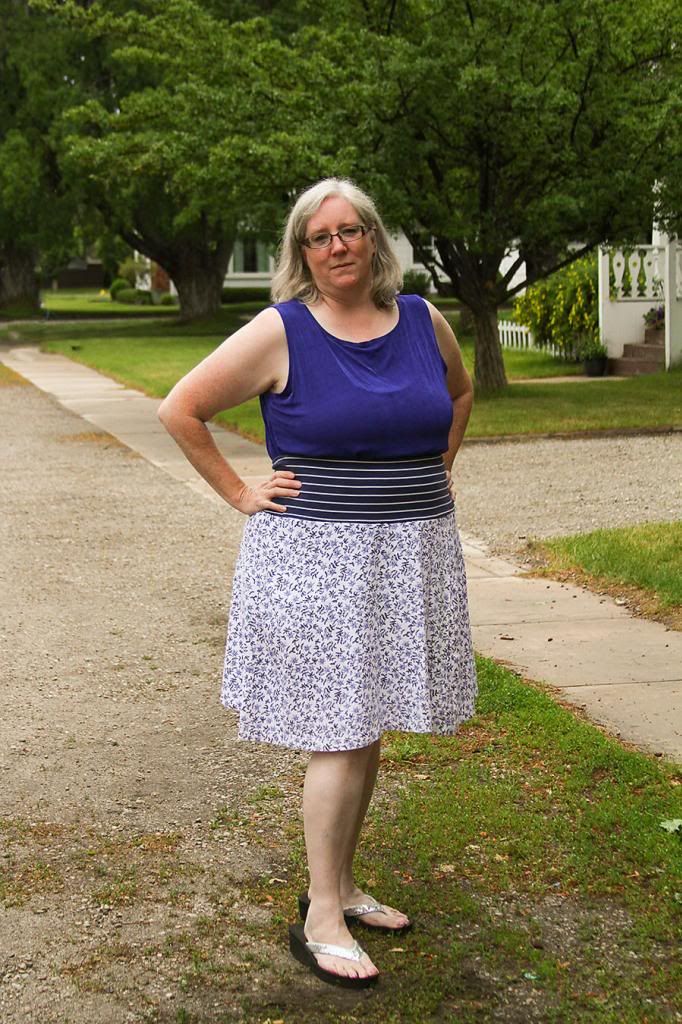 Have you been creating? I'd love to see what you've been making!